Saw it!
Film review by Tracy Tong
Saw
Directed by James Wan, Written by Leigh Whannell.
Starring…
Cary Elwes, Leigh Whannell, Danny Glover, Micheal Emerson, Tobin Bell, Benito Martinez, Ken Leung, McKenzie Vega, Shawnee Smith, Monica Potter, Dina Meyer.
Running time 100 mins.
R Rated.
To be killed or be killed seems to be the theme throughout this psychological thriller which has a clever but rather dated storyline. It's full of twists and turns, is dark and moody and full of revenge and mind games with an intriguing concept.
The film starts with two apparently unconnected guys waking up on opposite sides of a pitch black, stinking disused washroom, they are both manacled to pipe-work which will administer a number of electric shocks to Dr Larry Gordon and Adam. In the middle of the floor lies a mangled dead body with a tape recorder in its hand……. Both men try to figure out the events leading up to them being in this dingy hole, all will come apparent as events unfold and with the help of a tape cassette each and a mobile phone they receive orders they must follow in order to keep themselves alive throughout this nightmare. There are a few stomach turning scenes where I must admit I had to turn away from the screen being a bit squeamish myself. When it comes down to it the string of nasty scenarios are down to a man named Jigsaw who is into kidnapping, voyeurism , clowns and obviously gets off on torturing people both physically and mentally, there is also the usual two good detectives whose job it is to try and stop this madman carrying out his sick experiment……….. Will they get their man in time ?
Saw has a number of different meanings within the film but if I was to tell you them I'd be giving the plot away.
I got the feeling I had seen a number of different ideas taken from a number of different films but Saw is definatly worth seeing.
My rating 8/10.
TV Review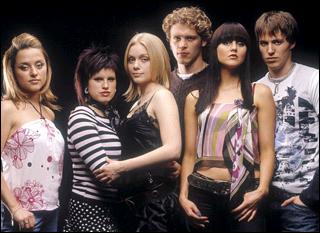 Hex Appeal
Hex, Sky One
Hailed as Britain's answer to Buffy, this series about supernatural goings on in and around a remote British school, tells the tale of a teenage girl, Cassie, who suddenly finds she has special powers and is cursed by links to the past.
But this is much darker than Buffy and, being sexier than Buffy, aimed at an older audience than the American TV series.
Stalked by Azazeal, the leader of the Nephilim, Cassie has to fight against the powerful forces that threaten her existence, helped by her best friend who has become a spirit after being accidentally sacrificed.
Not as effects-led as Buffy, but has a dark atmosphere throughout, and some nice touches of humour.

Book Reviews
The Taking by Dean Koontz
(Harper Collins)
Molly Sloan wakes one night to the heavy pattering of a oddly scented luminescent rain. Their are coyotes huddled, frightened at her porch and she senses some presence moving overhead, in the night sky. When her husband Neil wakes after a nightmare, they watch the breaking news on TV, concerning supernatural occurrences, outbreaks of violence, and world panic. It appears as if they are under an alien invasion.
Molly and Neil join forces with some of the townspeople, trying to work out what is happening and think of how best to deal with the evil forces that seem to be taking over the planet.
It becomes apparent the aliens are changing the landscape of Earth to their own and infesting it with creatures of their own. Will they succeed in this or will mankind find a way of stopping them?
A bit of a different take (no pun intended) on the aliens-taking-over-us story of the 1950s feature films and books such as H.G. Wells' War of the Worlds and lots of mentions of T. S. Elliot thrown in for good measure, which becomes a part of the plot.
This is a page-turner if ever I read one, recommended!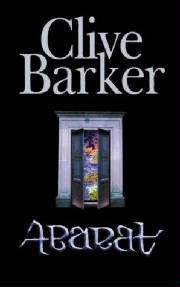 Abarat by Clive Barker
(Harper Collins)
Candy Quackenbush, is a 16-year old schoolgirl living in Chickentown, Minnesota, who one day accidentally stumbles into another world, the Abarat> The Abarat is an archipelago of islands making up the different hours of the day. Here she encounters many weird and wonderful characters as she makes her journey between the islands. Such as John Mischief, master thief, who's brothers - all called John - are a number of heads attached to antlers growing from his own head, and the wizard, Kaspar Wolfswinkel. One person she doesn't want to meet is the evil Christopher Carrion, Lord of Midnight, who is very interested in this amazing young girl.
This is Barker's Alice in Wonderland, and is a good read for all ages.
Back to Contents